Auto Mail Sender™ Standard Edition - A Powerful Email Scheduler Since 2004

Download v6.0 for PC, 1.88 MB, Updated @ Dec 24, 2012

Purchase License

Recommend It to Friends
---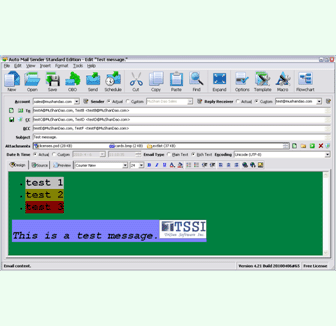 Auto Mail Sender™ Standard Edition (AMSSE)
is a powerful and easy-to-use email scheduler, it can be used to send emails automatically at anytime and any frequency as you expect.
You can set various eMailing schedules, such as yearly, monthly, weekly, daily and any other schedules you can think of.
It provides all the traditional email elements and some distinctive features, such as sending schedule, sending one by one, repeat sending, macros supportable, folder attachment, SMTP accounts/proxies list and automatic selecting, reading/saving receivers from/to the txt/csv/xls(x) files, and more.
You can inform yourself or others, submit work logs/documents, and send routine business emails, surely, make ads and greet your families/friends at their important day (for instance: birthday) through use of this email scheduler.
Key Features
Schedule Email Sending
Sending One by One
Repeat Sending
Macros Manager & Built-in Macros
Read Advanced Mass Sender... Article to Know More
Supports Folder Attachment
Supports Emptying Folder After Sent It successfully (for Automatic Mode)
Supports SSL / TLS Security Connection
SMTP Accounts/Proxy Servers Manager (Automatic Selecting Available One)
WYSIWYG HTML Email Editor
Custom Sender/Reply Receiver/Sending Time
Selecting Receivers from txt/csv/xls(x) Files
Input Prompt for Receivers and Auto-complete SMTP Account Settings
---
BitsDuJour's Review
Automatically Send Scheduled Emails
Auto Mail Sender™ is an extremely powerful and intuitive email sender that you can use to send email messages automatically, at any time, and with any frequency that you wish. Send automated email messages annually, monthly, weekly, daily, or on any periodic basis that you can imagine.
Imagine being able to send periodic reminders of your amazing products and services out to your client base, without the burden of having to remember to sit down and author a new email every time. Or imagine having the ability to automatically send email messages about system status (up/down), and only having to change the email if something changes with the system. You could even schedule birthday emails in advance, so you'll never "forget"!
Beyond the sheer usefulness of being able to send automated messages on a scheduled basis, Auto Mail Sender™ also includes some dandy bells and whistles that are designed to make your life much easier. There's support for multiple SMTP accounts, with the ability to automatically switch to another should one fail. The same concept applies for proxy servers -- maintain a list, and if a proxy server isn't available, Auto Mail Sender™ will instantly switch to an alternate. You can craft your emails creatively using the WYSIWYG HTML editor, and ensure that your emails are being received by using the receipt function!
How about your recipients? Auto Mail Sender™ lets you set up an address book, or save your list of recipients to text, CSV, or XLS files! It supports macro creation, folder attachments, and even allows you to empty folders after successful sending (in automatic mode only).

Download v6.0 for Microsoft® Windows®, 1.88 MB, updated at Dec 24, 2012.
CNET's Review
Auto Mail Sender™ promises to help users send e-mails on a schedule and from virtual identities. With a mostly easy-to-understand setup, this program performs its complicated task so nearly anyone can use its power.
This program is set up to mimic the appearance and interface of less flashy e-mail programs like Microsoft Outlook, but with a few more rows to fill to help protect the sender's identity. Users familiar with sending e-mails should not have a difficult time navigating through this program, but can consult Auto Mail Sender™'s thorough Help file if an issue arises. Some of the features that make this program stand out are its easy capability to send the mail from a virtual address, set the e-mail's time and date sent to any time imaginable and import an address book from another e-mail system through a simple menu. Scheduling e-mails to send hourly, daily, weekly, and monthly was as simple as setting an alarm clock, while filling out and sending the actual e-mail felt natural. However, users must input their server and port before the mail sends, which could be a snag for more novice computer users, but not an impossible hurdle.
A trial limitation prevents you from sending more than 50 e-mails. However, thanks to its capability to disguise senders and to easily set a schedule, we recommend this program for anyone who needs secrecy and repetition in their email sending.

Download v6.0 for Microsoft® Windows®, 1.88 MB, updated at Dec 24, 2012.
Free Downloads Center's Review
Email clients make your job of managing emails a lot easier while personal information managers remind you of important personal dates and professional appointments. Auto Mail Sender™ 4.10 offers you the best of both worlds by combining standard email functions with the ability to set schedules for sending specific emails.
Your present email client may be perfectly capable of sending, receiving and managing emails. However, if you observe the pattern of mails being sent over a period of time, you will notice that more often than not, you are sending the same mail to a set of people though at different times. For example, as a professional, you might need to keep in touch with your clients on a regular basis or you might have to send greetings to family and friends. In such a case, the content of the mail might not change though you may have to send the mails at different times. Auto Mail Sender™ 4.10 offers you the perfect solution – you can use it to send emails to receivers specified by you automatically at the time and with the frequency that you choose. It certainly provides you all the traditional mail functions and adds a few more such as the ability to create a sending schedule, sending mails one by one and repeat sending of a specific mail. Auto Mail Sender™ also includes a powerful WYSIWYG HTML editor allowing you to create high-impact, professional looking mails very easily and quickly. You can use this application to create and send routine business emails on a regular basis. Else, you can keep your greeting ready and schedule it to be sent by Auto Mail Sender™ on the day of the special occasion like a birthday or marriage anniversary.
With its unique ability to schedule mails at one's convenience so that one never misses sending out that all-important mail, Auto Mail Sender™ gets a score of four rating points owing to its stellar performance and rich feature set.
Take Reviews's Review
...Above all, auto email sender by Trisunsoft is instinctive and powerful mail sender used for sending mail messages automatically. Trisunsoft auto email sender gives regular reminders of amazing products as well as services to client base. Beyond utmost usefulness, you will be free to send messages automatically on scheduled basis...
Recommend It to Friends
1. Easy Way
Just click the related buttons on the right to share it to facebook, Twitter, Google+, etc.
2. Manual Sharing
You can also manually share it by using the following text in your email or other places.
Subject:
Recommend software - Auto Mail Sender™ Standard Edition: sends emails automatically (from 'your name here')
Content:
Hi,

I'm using Auto Mail Sender™ Standard Edition, it's a powerful email sender and provides the Free license for you, you can use it to send automatic email conveniently.

You should have a test!

Official page: http://www.AutoMailSender.com/auto-mail-sender-standard-edition.htm
Direct download: http://www.AutoMailSender.com/auto-mail-sender.zip

Download v6.0 for Microsoft® Windows®, 1.88 MB, updated at Dec 24, 2012.