AMSSE Main Feature - Schedule eMails - Automatic eMail Sending
What is scheduling eMails?
"Schedule emails" means that you do not want to send the prepared emails right now, and replaced to send them in the future, such as Thur. 16:00 of next week, or 1st 09:30 of next month, etc. And the scheduled time for sending emails can be an exact time, e.g. Aug 09, 2018 13:45, or a variable/periodic time, e.g. Fri. 18:30 for every week.
Besides, as you think, you need some prepared emails for scheduling, such as receivers, subject, content, etc. And other important thing is, need a sender (email account).
Why need to automatically send email?
Here are some sample purposes to answer this question, but the actual purposes are not only these, you may find out more in your work, life and learning.
Remind yourself or others something important.
Submit the daily work logs or documents to your manager.
Send the routine business eMails.
Periodically introduce your product / service to the potential customers by emails.
Greet your families or friends at the important days, e.g. birthday.
As above, some purposes are for avoiding forgetting, some are for reducing your workload. If you have such these requirements, you should have a handy email scheduler.
How to send delayed email by Auto Mail Sender™ Standard Edition?
Our software - Auto Mail Sender™ Standard Edition (AMSSE) is designed to automatically send eMail specially, and you may aware this by its name :)
It has many scheduling types that you can imagine or cannot imagine. Take a glance first: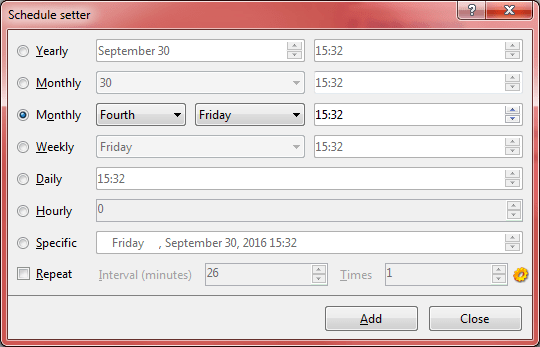 Screenshot A: scheduling types for automatically sending email.
Now explain how to get automatic email sending by using it, step by step.
Step 1:
download the official version of AMSSE, install and run it.

Download AMSSE to know how to send delayed email!

Step 2:
click <Steps> button on the toolbar, it will guide to create your first email account for sending, and then create an email (template), save it.
Step 3:
select the template, and then click the plus icon near the Schedule list, you will see the Schedule setter like above interface.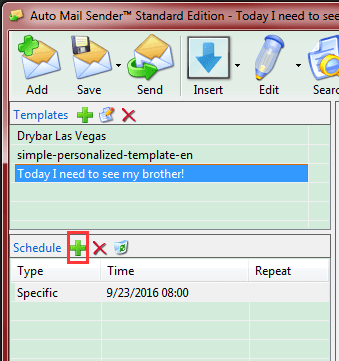 Screenshot B: open automatic email sending setter.
Step 4:
on the Schedule setter, specify the sending time as you wish, and then click <Add> button, you can set one or more schedules for the selected template. And then, nothing needs to do, AMSSE will send the scheduled emails follow your order.
Which types of scheduling are supported in AMSSE?
As above Schedule setter screenshot, you can create the following schedules (a few settings are hidden in the drop-down list, so list all types here):
Yearly: MMM DD HH:MI (August 15 19:22)
Monthly: DD HH:MI (23 19:22)
Monthly: LastDay HH:MI (Last Day 19:22, this options is very friendly, because the last day may be 28, 29, 30 or 31)
Monthly: First~Fifth DDD HH:MI (Second Friday 19:22)
Monthly: Last DDD HH:MI (Last Friday 19:22)
Weekly: DDD HH:MI (Friday 19:22)
Daily: HH:MI (19:22)
Hourly: MI (22)
Specific: MMM DD, YYYY HH:MI (August 15, 2019 19:22)
Please note that the date time format is relied on your system settings, also friendly!
Other Things You Need to Pay Attention
AMSSE is a Windows software, if you want to use it on Mac computer, you can use a Windows emulator like Parallels Desktop.
AMSSE uses a Windows service to send out the scheduled emails, please keep it running. Usually, our clients install it on their server. P.S. it is set as automatic startup.
If you happen to need our
email scheduler
, just download it first:

Download AMSSE to know how to send delayed email!