AMSBE Documentation - eMail templates manager interface manual

Download Auto Mail Sender™ Birthday Edition Help Home AMS Birthday Edition Home eMail & eMailing Software Home Produced by TriSun Software


---
Purpose

Manages all your email templates.

Open Method

Click 'eMails -> eMail templates manager' module link on the main interface to enter the management mode.
Click the corresponding button on Search employees, Employee editor, Search contacts, Contact editor, Festivals manager or Queue and log manager interface to enter view mode.

Interface and Illustration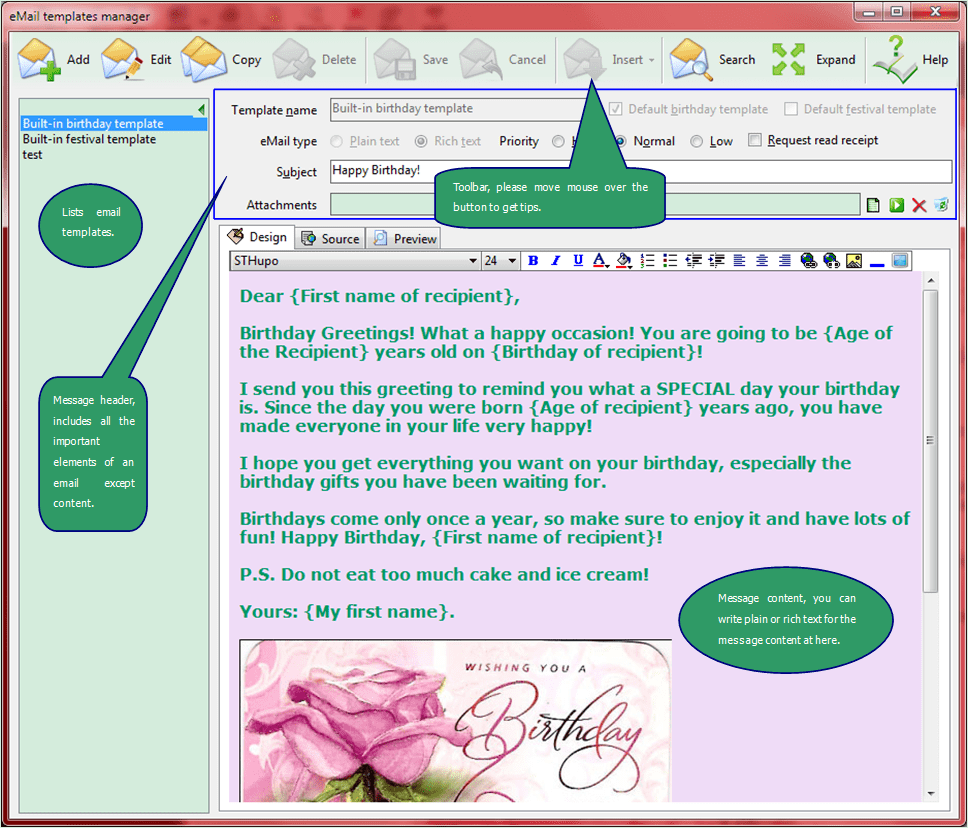 Important: to send e cards in AMSBE, please read this article first: How to send an eCard (built-in, local and online) in AMS Birthday Edition?
Fields Explanation
[Template name] - uniquely identifies the email template, must be filled.
[Subject] - the subject of current eMail template.
Tips: AMSBE prevents sending the no-subject eMail for anti-spam reason.
[Attachments] - the attachments which will be sent with the message, you can add/open/run/delete/clear it/them via clicking the picture buttons.
Tips: a few SMTP servers reject sending the unsafe executable files (such as .exe/.bat/.com) directly, the servers will return the 552 error code (for instance: smtp.gmail.com), you can compress these files as .zip/.rar or others for sending to solve this problem. Now, even the compressed file that include the unsafe executable files are not allowed to send also, such as Gmail, please click here to know more details. So, to ensure your message can be sent successfully, please rename the unsafe executable files and then compress them for sending (tell receivers the original file names in content).
[eMail type] - the default type can be set in the 'Preferences' tab page on the Options interface.
Maximizes/Restores Input Area
To maximize/restore the content area, please click <Expand>/<Restore> buttons on the toolbar.
To maximize/restore the [Attachments] list, please double-click its blank area.
Commands Reference
<New> - creates a new email message <Ctrl+N>.
<Edit> - edits the selected template <Ctrl+E>.
<Copy> - duplicates the selected template <Ctrl+R>.
<Delete> - deletes the selected template <Del>.
Tips: if you deleted the template that is used by some contacts/employees/festivals, the reference will be the corresponding default template.
<Save> - saves current template <Ctrl+S>.
<Cancel> - cancels your changes in current template <Ctrl+D>.
<Insert> - inserts something into content/subject, such as signatures, macros, text in files, built-in greeting cards.
<Search> - finds text in content <F3>.
<Expand> - expands the content area <F4>, after clicked, it will display as 'Restore'.
<Restore> - Restores the content area <F4>, after clicked, it will display as 'Expand'.
<Help> - displays online help <F1>.
- attaches files.
- runs/opens the selected attachment <Enter/double-click>.
- removes the selected attachment<Del>.
- clears the attachments list.
- sets or removes background color/picture/sound.
Rich text email toolbar buttons - please see their tooltips to know about the functions.

Download Auto Mail Sender™ Birthday Edition for Microsoft® Windows®.