Auto Mail Sender™ File Edition Online Help - Rich Text (HTML) Email Content Editor interface manual

Download Auto Mail Sender™ File Edition Help Home AMS File Edition Home Email & Emailing Software Home Produced by TriSun Software


---
Purpose

Use this WYSIWYG HTML editor to write/design your email content, once finished, click <Get Source> to copy HTML source code or <Save> it as a HTML file, and then use the source code or file name at the proper location of your email file.

Open Method

Click 'Preferences & Tools -> Rich Text (HTML) Email Content Editor' module link on the main interface.

Interface and Illustration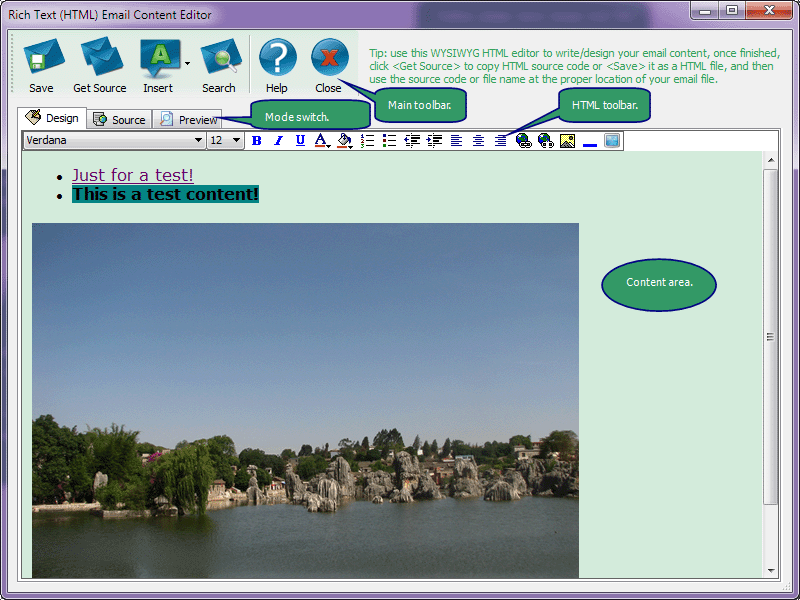 Commands Reference
<Save> - saves the source code of current HTML email content to a HTML file.
<Get Source> - gets the source code (copies it to system clipboard) of current HTML email content.
<Insert> - inserts macro or text (from file) into content.
<Search> - finds text in content <Ctrl+F>.
<Help> - displays online help <F1>.
<Close> - closes this window <Alt+F4>.
- sets or removes background color/picture/sound.
Other HTML Commands - please refer to the tooltip to know more details.
Remarks
Usually, you only need to use the 'Design' and 'Preview' tabs; if you are good at HTML programming, you can also write HTML code in the 'Source' tab page to get more professional effect.

Download Auto Mail Sender™ File Edition for Microsoft® Windows®.