Auto Mail Sender™ File Edition Online Help - Queue and Log Manager interface manual

Download Auto Mail Sender™ File Edition Help Home AMS File Edition Home Email & Emailing Software Home Produced by TriSun Software


---
Purpose

Lets you know about which email files will be sent and the successful/failed sendings.

Open Method

Click 'Preferences & Tools -> Queue and Log Manager' module link on the main interface.

Interface and Illustration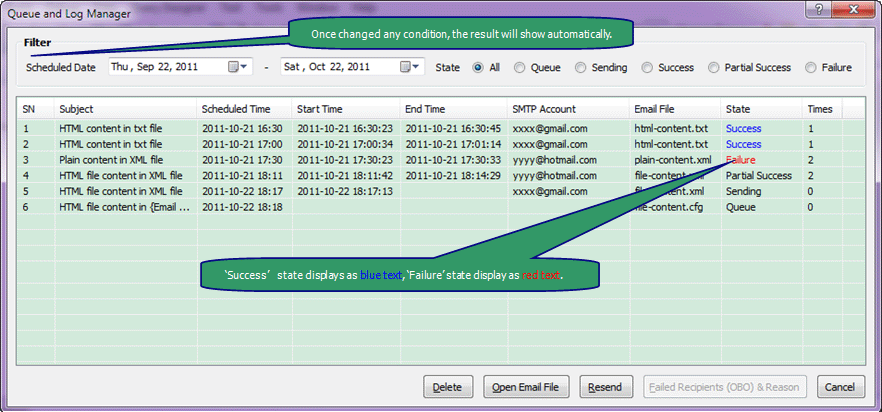 Commands Reference
<Delete> - deletes the selected emailing log, cannot delete emailing queue and sending items.
<Open Email File> - opens the email file that (will) be used by the selected row <Double-click>.
<Resend> - resends the selected item, cannot resend emailing queue/sending item due to it will be sent automatically.
Tips: if the selected item was sent (partial) successfully, you will get a confirmation box before resend it.
<Failed Recipients (OBO) & Reason> - views the failed recipients (only for one by one emails) and failed reason for the 'Failure' or 'Partial Success' emailing log.
Tips: Why failed recipients are only for one by one emails? Because for normal emails, either all successful or all failed.
<Cancel> - closes this window <Esc>.
Remarks
'Partial Success' state is only for the one by one emails, because for normal emails, either all successful or all failed.
Why no more email elements in the list except [Subject]?
Because all elements of an email is difficult to show in a row, even if shown, it is not friendly for reading; more importantly, you can read these information in your email file, use your favorite text editor or browser, just double-click a row to read the corresponding email file.
The result list will be refreshed automatically per 19 seconds according to the filter.

Download Auto Mail Sender™ File Edition for Microsoft® Windows®.